Tired of cold floors in the winter? Want an effective, efficient way to heat your home? Then it's time to consider radiant heat. An energy-efficient way to heat your floor—and your home—radiant heating can help you stay cozy all winter long. Five Star Solutions is pleased to offer radiant heat installation and maintenance in addition to our other boiler and furnace repair services. Bringing you the luxurious feel and affordable warmth of radiant floor heating, our professionals are your answer for complete home heating system installation and maintenance. So whether you're tired of stepping onto an icy bathroom floor in the morning or you're in the market for a whole-house heating system, radiant heat from Five Star Solutions may be right for you. Call or e-mail us today to learn more!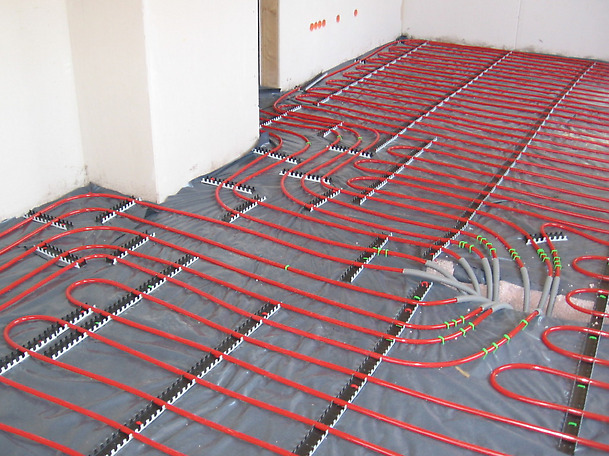 Radiant Floor Heating
Installed under your flooring, radiant heating warms the floors themselves but also radiates heat throughout the entire room. A series of pipes is laid underneath the flooring, and when hot water is circulated through these pipes, the floors heat up! Offering a toasty warm feel for your toes and a hassle-free heating system for the air, radiant heaters are an effective way to heat homes and businesses alike. At Five Star Solutions, our professionals can help you determine if a radiant floor heater is right for your needs as well as provide complete, correct installation. We're available for both single room and whole-house radiant heater systems, and we can even divide your radiant heat into zones for easy operation and temperature control. When you want great customer service as well as the very best in radiant heat, we're the HVAC contractor for the job. Let us bring you affordable, luxurious radiant heating for your home or office—call today to get started.
Providing complete plumbing and heating services for almost three decades, Five Star Solutions has the skills you can count on for a job done right the first time. And with our reputation for the best customer service and affordable pricing, you can be confident that we'll take great care of you as well as your home when it comes to radiant heat installation. From radiant floor heat design to system installation and maintenance, Five Star Solutions is ready to take great care of you.